Our Research & Publications
Student Seminar Day
AIMS@JCU Student Seminar Day
One of the primary AIMS@JCU events is the annual AIMS@JCU student seminar day.  Each year, this is a successful and well attended event for students to show case the cutting edge research being conducted.  Top oral and poster presentations are awarded funding to support science communication.  The event is an important mechanism for students to share research findings with the broader AIMS and JCU scientific communities as well as compete for financial prizes. 
For 2018 Seminar Day, please see the new website here: http://staging-aims.jcu.edu.au/student-seminar-day/
2017 Student Seminar Day
This year's student seminar day is to be held on 1st September 2017 from 9am at the Townsville Yacht Club.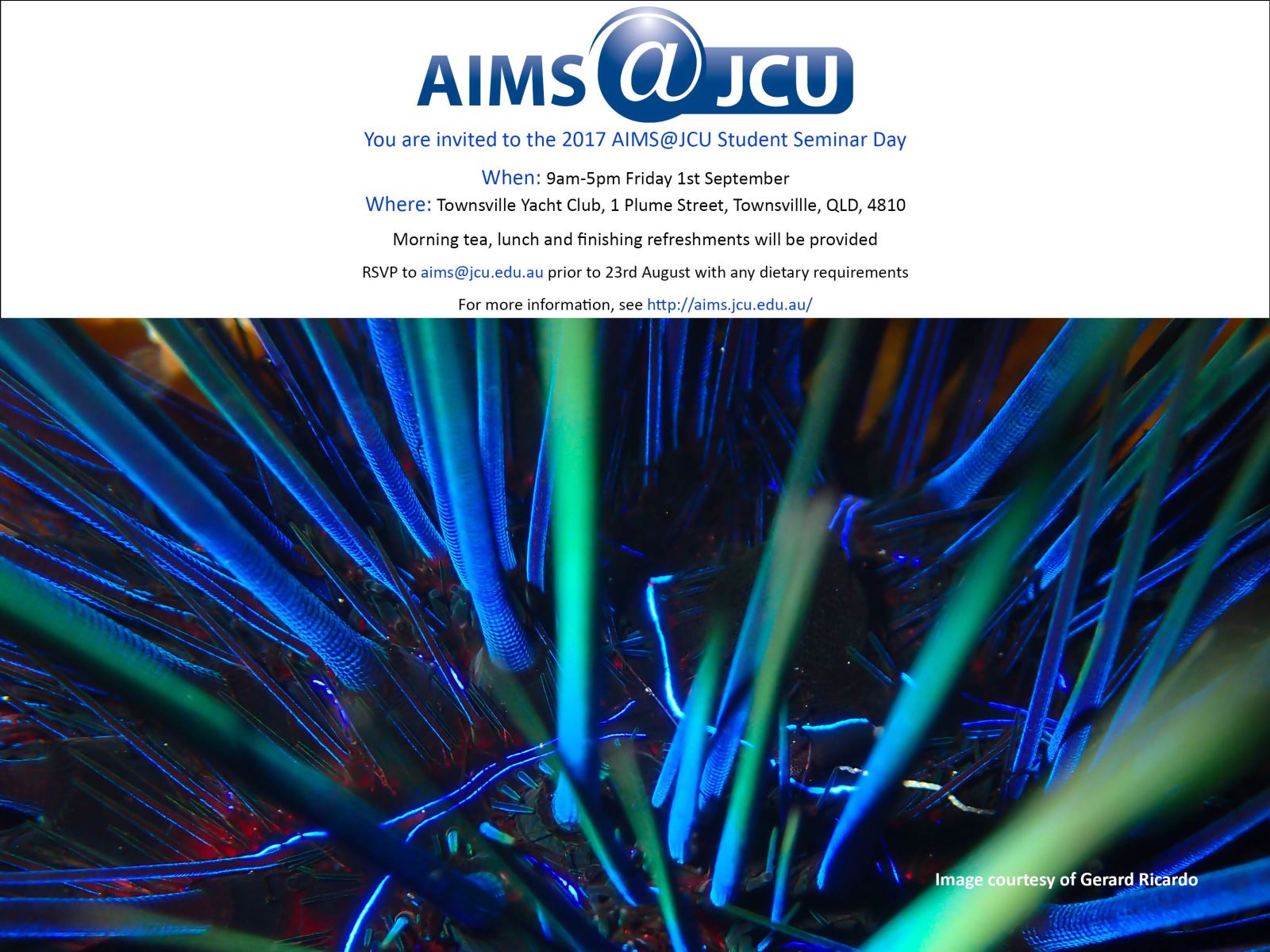 The judging criteria can be downloaded here, the abstract guidelines here and the photograph copyright form here.
If you plan on attending, please let us know prior to 23rd August with any dietary requirements.
2016 Student Seminar Day
On 16th September, AIMS@JCU held another hugely successful seminar day, this year at the Museum of Tropical Queensland, Townsville.  
Well done to all of the presenters, as always the standard was exceptionally high and it was a very well attended event.
Congratulations to the winners who received funding to put towards science communication:
1st place seminar talk presentation ($1,500): Cecília Pascelli
Runner up seminar talk presentation ($1,200): Gerard Ricardo
1st place speed talk presentation ($1,000): Kathryn Berry
Runner up speed talk presentation ($800): Carlos Bohorquez Rueda
1st place poster presentation ($800): Brian Strehlow
Runner up poster presentation ($600): Samuel Matthews
Photography prizes were won by Brian Strehlow, Kathryn Berry, Cecília Pascelli and Danilo Malara.

A big thank you to the judges: Peter Doherty, Yvette Everingham, Richard Brinkman, Hayley Gorsuch, Richard Davis, Catherine Naum and Helene Marsh; to the chairs: Elodie Ledée and Gemma Wickens; and to our key note alumni speaker: Chiara Pisapia.

2015 Student Seminar Day
The Pier Restaurant in Townsville was again host to another successful AIMS@JCU Student Seminar Day on 18th September 2015
Congratulations to the days winners:
Seminars:
1st place ($1,500)
Brian Strehlow - Understanding the impacts of dredging on sponges
2nd place ($1,200)
Amin Mohamed - Host transcriptome analysis during onset and establishment of coral-algal symbiosis
People's choice ($600)
Adriana Humanes - Eutrophication and climate change compromise the fate of early life history stages of Acropora tenuis
Speed talks:
1st place ($1,000) and People's Choice ($200)
Kathryn Berry - How coal affects water quality: a coral's perspective
2nd place ($800)
Geoffrey Collins - Understanding drivers of hypoxia tolerance in a tropical estuarine fish
Posters:
1st place ($800)
Cecília Pascelli - Electron microscopy provides insights into the nano scale world of marine sponges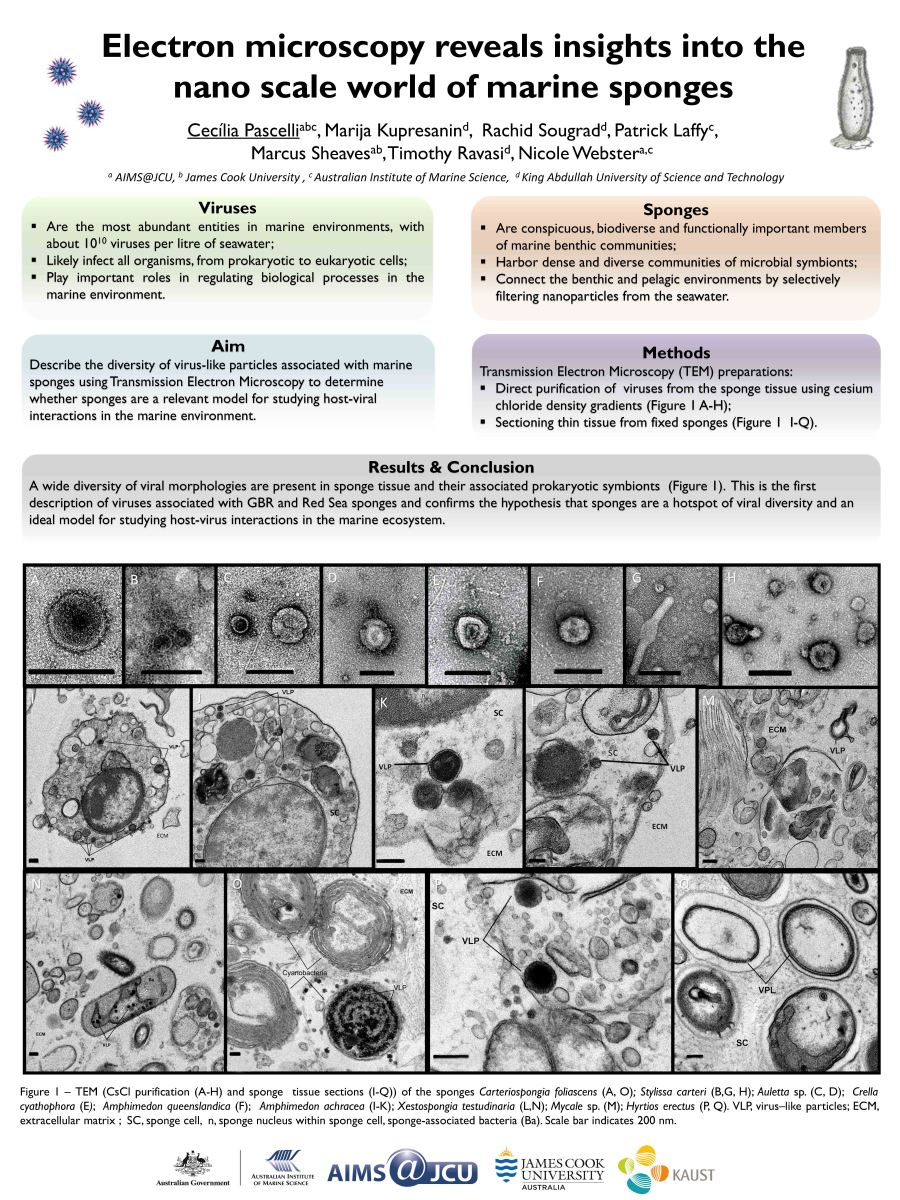 2nd place ($600)
Gerard Ricardo - Move-over parrotfish: Coral embryos make next-gen mucous cocoons in response to suspended sediment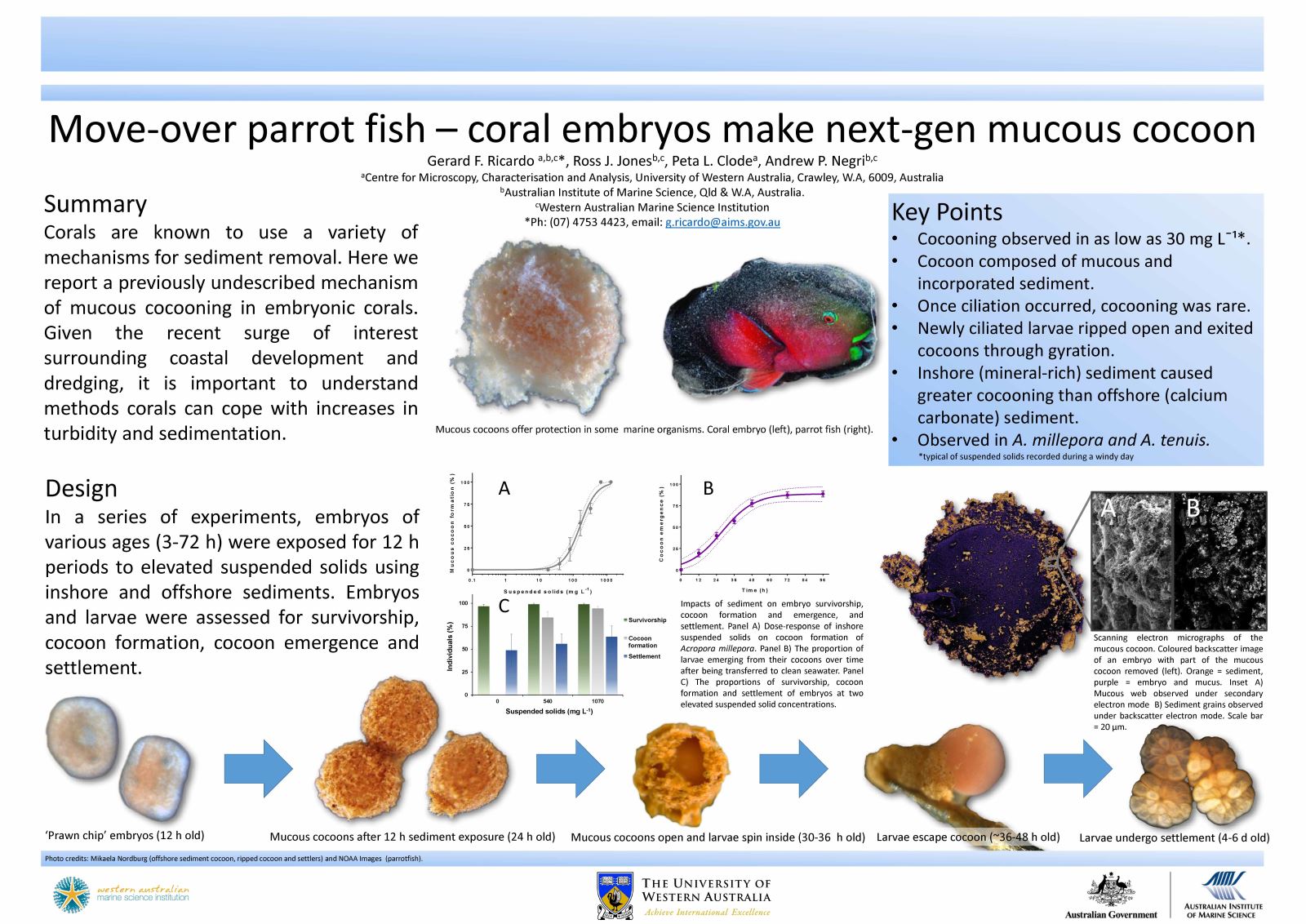 Photographs: ($100 each):
Research Subject Kathryn Berry

'Reef fish gills after chronic coal exposure'

Research in Action Patrick Buerger

'The highly complex pipe system at the SeaSim facility supports coral recovery and growth'

Photo micrograph / macro - Kathryn Berry

'Anemone captured in perfect light'

Quantatative Marine Science Brian Strethlow

'Mapping flow around a sponge excurrent pore in three dimensions'

People's Choice Patrick Buerger 'AIMS@JCU students filming 360 degree video for Bommies Award at Orpheus Island'

 
The schedule for the day can be found here, the abstract booklet here and the judging criteria can be found here.

2014 Student Seminar Day
The 2014 AIMS@JCU Student Seminar Day was held at the Pier Restaurant in Townsville on 8th August.  Our photography gallery is available for viewing – please visit Visual Echo Photography.  If you would like any of the images, please check the box in the top right hand corner of the thumbnail images, fill in the form at the bottom of the page and click send.  The photographer, Marc, will then send copies of the images to you (let him know if you want anything bigger than web resolution).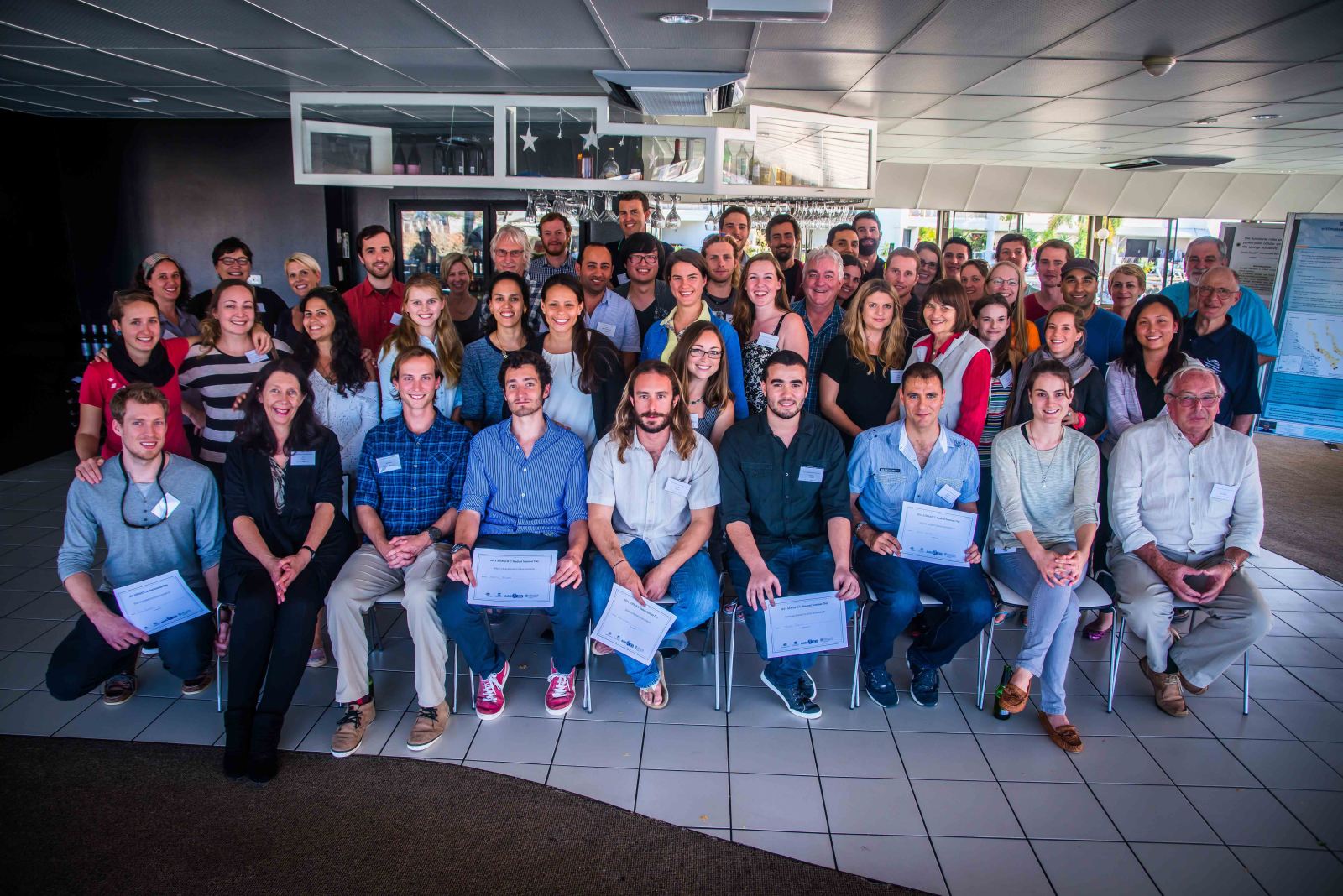 Many, many thanks to everyone who contributed to yet another successful AIMS@JCU seminar day.
Especially…
All presenters and their supervisors and supporters
All attendees
Our judges (Dr Liz Tynan and Dr Chris Crossland for oral presentations;  Prof Helene Marsh and Dr Lyndon Llewellyn for posters; and Marc Gregory for photos)
Huge thank you to Lauren Gregory and Melissa McLean from the AIMS@JCU office, for organising everything.


Hearty congratulations to these winners, who each received a prize of funding for further science communication activities.
Seminars:
1st place ($1,500)
Justin Rizzari - The impact of conservation areas on trophic interactions between apex predators and herbivores on coral reefs
2nd place ($1,200)
Pasang Tenzing - The eco-physiology of two species of tropical stingray in an era of climate change.
People's choice ($600)
Kathryn Berry - Coal carrier spill: acute and chronic effects of coal dust on a reef-building coral, seagrass and fish species.
Speed talks:
1st place ($1,000)
Martino Malerba - If you cannot explain great things, explain small things in great ways.
2nd place ($800)
Patrick Buerger - Characterising bacteriophages for black band disease: potential for phage therapy?
Posters:
1st place ($800)
Brian Strehlow - Identifying, characterizing and quantifying the effects of simulated dredging on sponges.
2nd place ($600)
Danilo Malara - Porphyrins as self-destructive photcatalist in seawater.
Photographs: ($100 each):
Once again, many thanks and congratulations to all on a great seminar day.
The schedule for the day can be found here, the abstract booklet here and the judging criteria can be found here.
2013 Student Seminar Day
Many, many thanks to everyone involved in a highly successful 2013 AIMS@JCU seminar day.  I think all fortunate enough to attend will agree that all presenters did a great job, and have set a very high bench-mark standard for science communication.  I would like to congratulate all presenters for their performance.  I personally thoroughly enjoyed learning more about your work, and mingling with everybody throughout the day.  We had an amazing number of presentations this year: 19 talks, 12 posters and over 70 images displayed.  And a special thank you to Shanta Barley and Lucy Ferreira, for coming all the way from Perth to be part of our day!  (and thanks to Steve Rogers for funding it!).
Special congratulations to the winners of the prizes - here they are again for those that missed the presentation function in the evening:
Photography prizes ($200 each):
| | |
| --- | --- |
| Research subject | Research in action |
| | |
| | |
|   |   |
Quantitative Marine Science

Photomicrograph/Macro

 

People's choice
All prizes are to fund science communication – be it conference travel, other travel to communicate with peers; publication fees for an open access journal; etc.
It was a great day that could not have been possible without a lot of help from many people.  If you missed out on the day, here is our schedule and abstract booklet. Many thanks to all presenters, poster authors and photographers; everyone that came to listen to them; our judges – Don Kinsey and Annie Ilett (talks); Rocky de Nys and Annie Ilett (posters), and Lyndon Llewellyn (photos); Gerard Ricardo and Ian McLeod, for helping with set up and photography on the day; everyone who helped get all those photographs up on the boards and last but not least - Lauren Gregory, for coordination and organisation of a very successful day.
2012 Seminar Day
The 2012 Seminar Day was held as part of the 12th International Coral Reef Symposium. With a packed schedule of talks, It was a wonderful day and another great success, There was a great turn out for the extremely high quality oral and poster presentations on offer.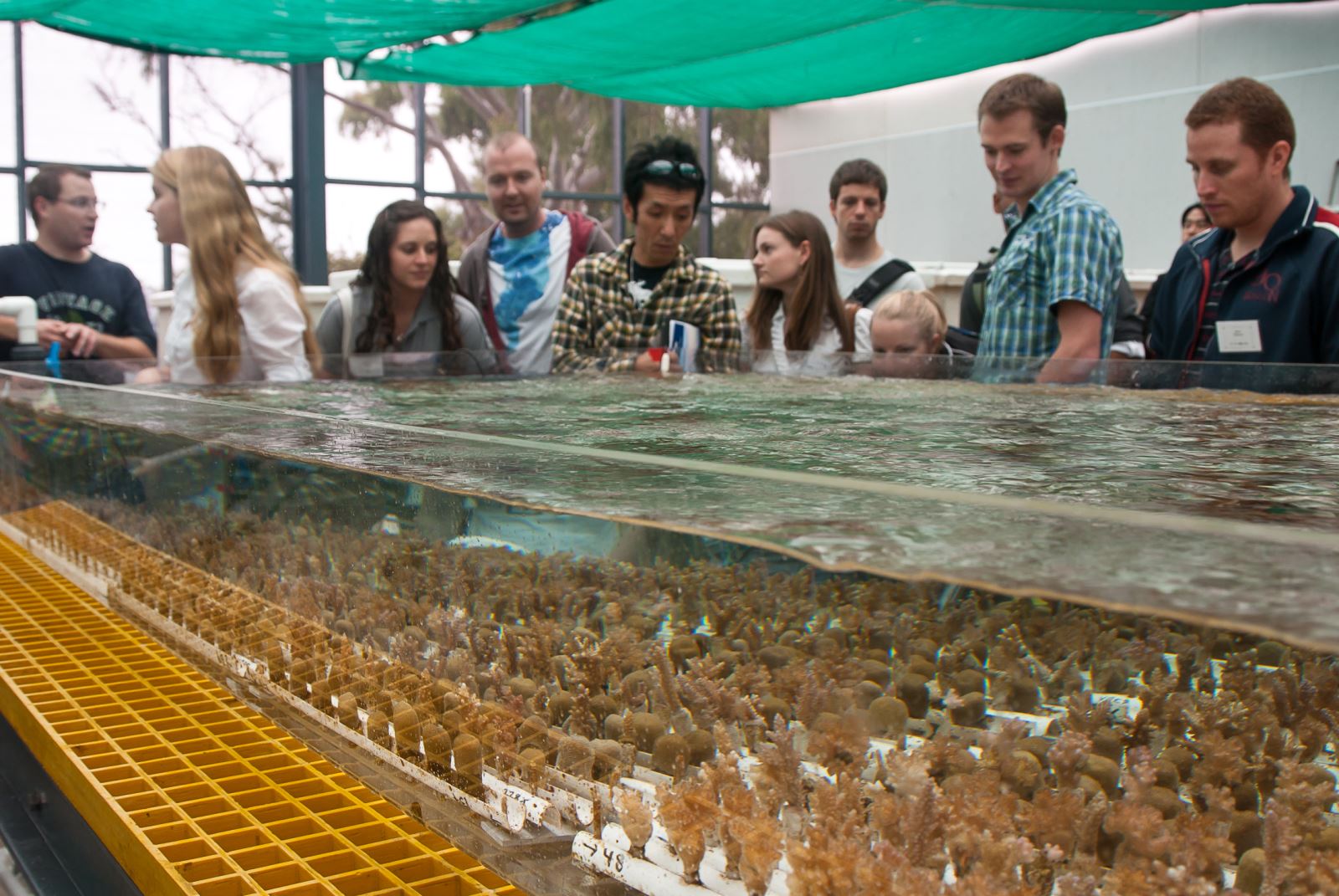 2012 winners were:
Seminar
1st place ($2,000 travel award)
Jean-Baptiste Raina
Identification of antimicrobial compounds produced by coral associated bacteria
2nd place ($2,000 travel award)
James White
A comparison of field methods for assessing boldness in fishes
Posters
1st place ($1,000 travel award)
Mario Espinoza
The role of non-reef sharks in coral reef ecosystems: movements and trophic ecology of top predators along the Great Barrier Reef
2nd place ($1,000 travel award)
Melissa Rocker
Thermal stress-related gene expression in corals with different symbiodinium types
Photography ($200 travel award)
Artistic seascape

Macro and People's choice

James Tan CH

Research in action

Artistic research subject
Images taken of the 2012 Student Seminar Day by Visual Echo Photography can be viewed at http://www.visualecho.com.au/client_galleries/2012_seminar_day/