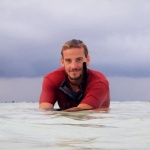 Alexander C E Buck
alexander.buck@my.jcu.edu.au
PhD
ARC Centre of Excellence for Coral Reef Studies
Investigation of population collapses of the Crown-of-Thorns Starfish (CoTS, Acanthaster planci)

Alex is an Italo-Australian PhD student working is under the supervision of Morgan Pratchett (ARC CoE for Coral Reef Studies) and Lone Hoj (AIMS). Prior to moving to Townsville for his Masters degree in Marine Biology and Ecology at JCU, he undertook a Bachelor in Biological Sciences at the Università degli Studi di Milano - Bicocca, where he was introduced to the marvelous world of marine biology thanks to the field-based workshops organised by the Ecology lab of his university in the Maldives (MaRHE Center) and Egypt.
While writing-up his Masters thesis on CoTS control with citric acid injections, he started volunteering and working as research assistant for the Pratchett Lab at JCU and for Lone Høj at AIMS. It was thanks to these collaborations that the idea of a microbiological investigation of CoTS microbiome arose.
Investigation of population collapses of the Crown-of-Thorns Starfish (CoTS, Acanthaster planci)
2018 to 2022
Project Description
The main scope of Alexander's PhD is to investigate the actual causes that lead to population collapses of the Crown-of-Thorns Starfish (CoTS, Acanthaster planci) often observed after an outbreak. Is it scarcity of preferred coral prey that leads to declines in health conditions of the starfish? And does this weakness lead to an outbreak of an epidemic disease within the starfish's population that rapidly decimates CoTS? What are the environmental and physiological conditions that affect CoTS health the most? Answering these questions will hopefully help improve management of this pest species in the future.
Project Importance
CoTS are the most voracious predator of scleractinian corals in the Indo-Pacific and population outbreaks of this pest species can have destructive effects on coral reef assemblages. At times when coral reefs are threatened by several human-induced stressors, such as global warming, ocean acidification, overfishing and increase in frequency and intensity of tropical storms, controlling this single echinoderm species may be one of the best ways to rapidly buy precious time and allow corals to recover from these pressures.
Project Methods
Microibology, tagging
Project Results
-
Keywords
Bacteria,
Behaviour,
Coral reefs,
Crown of Thorn Starfish,
Distribution,
Echinoderms,
Field based,
Interaction,
Management tools,
Manipulative experiments,
Microbial,
Microbiology,
Molecular techniques,
Tagging,
Virus
Supervised By: