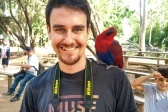 Luke Morris
l.morris@aims.gov.au
PhD
College of Science and Engineering
The role of nutrients in coral bleaching

Luke grew up near Brighton (UK) and always took a keen interest in nature and biology but was swayed towards aquatic environments through the home aquarium industry. This led to him studying for an MSci in Marine Biology at the University of Southampton, where he developed a passion for coral biology and studied the impacts of nutrient availability on coral physiology. Now, at AIMS and JCU, Luke seeks to unravel the central role that nutrients play in coral bleaching.
The role of nutrients in coral bleaching
2017 to 2021
Project Description
Luke's project seeks to understand how nutrient availability affects the health and associated Symbiodiniaceae communities of Great Barrier Reef corals, before, during and after thermal bleaching. The project will use a combination of field samples and laboratory experiments to tackle outstanding questions in coral nutrient and thermal stress physiology.
Project Importance
Mechanistic links between nutrient availability and coral bleaching susceptibility have been drawn from laboratory studies. However, the impact of nutrients on coral thermal tolerance in the field remains unclear. Improving our knowledge of this relationship is vital to better understand the mechanisms of coral bleaching, and how nutrient pollution impacts coral thermal tolerance.
Project Methods
Luke's project will integrate measures of coral physiology, carbon metabolism and ITS2 amplicon sequencing of Symbiodiniaceae to understand how nutrient availability impacts coral thermal tolerance. These approaches will be applied to 1) field coral samples taken over a natural coral bleaching event and 2) field-collected corals exposed to nutrient and thermal stress in the laboratory.
Project Results
I hope to find out how nutrient and thermal stress affect coral physiology, carbon metabolism and Symbiodiniaceae communities in Great Barrier Reef corals. More specifically: how nutrients impact bleaching in the field, the bleaching of corals from different environments, and the recovery of corals following bleaching.
Keywords
Supervised By: