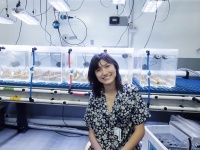 Ponchanok Weeriyanun
p.weeriyanun@gmail.com
Masters by research
Ghent University
Assisted Gene Flow

My name is Ponchanok Weeriyanun. I graduated in bachelor of science, department of biology, from Prince of Songkla University, Thailand. Currently, I am studying in the Erasmus Mundus Joint Master Program IMBRSea. My field of interest is corals' response to climate change.
Assisted Gene Flow
2020 to 2020
Project Description
The project will be an experiment of coral's symbiont genetic composition. The gene mapping of symbiont community will be produced by using Next Generation Sequencing in which the Symbiodiniaceae community will be quantified and the diversity enumerated and then compared with the parental symbiont profile.
Project Importance
Current research suggests that the abundance and diversity of Symbiodiniaceae plays an important role in survival for the coral under heat stress. In this study, the interesting species is coral Montipora digitata, a vertically transmitting species that passes its Symbiodiniaceae community from mother to its offspring.
Project Methods
The parental M. digitata colonies will be collected from Great Barrier Reef, Australia, and exposed to high-temperature seawater to induce experimental bleaching (~32-35°C). During the second coral spawning in March, gametes will be collected from these colonies, eggs and sperm will be fertilized ex situ and the resulting larvae and juveniles will be reared.
Project Results
The expected result is that a similar Symbiodiniaceae community will be passed from parents to offspring, but one that is shifted with the bleaching-level stress. The symbiont profile linkage with offspring fitness will also be assessed.
Keywords
Corals,
Genetics,
Molecular techniques
Supervised By: